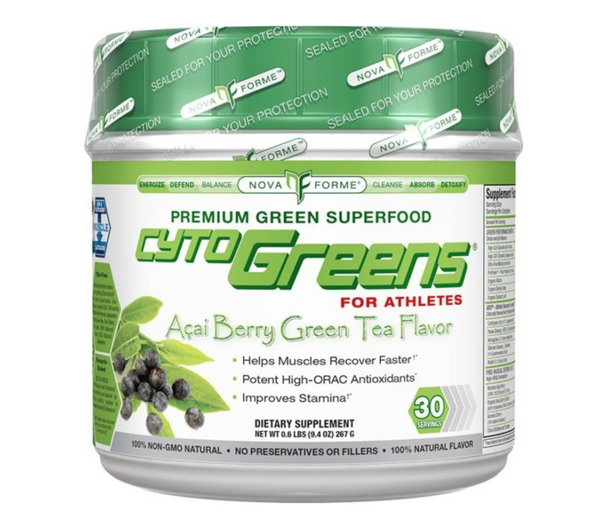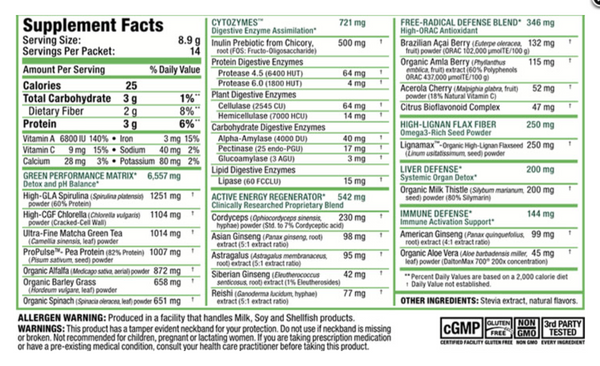 Cytogreens
CytoGREENS by 

Nova Forme
Premium Greens f

or Athletes

!

Replenish, Cleanse, Balance & Detoxify and Achieve your true potential.

HELPS MUSCLE RECOVER FASTER*
POWERFUL, HIGH-ORAC ANTI-OXIDANTS*


SUPPORTS STAMINA*CYTOGREENS represents a revolution in the way you deliver nutrients to your body. As a truly GREEN formula, 80% of the CYTOGREENS formula is our nutrient-rich, exclusive, Green Performance Matrix, designed to help you achieve optimal physical performance. CYTOGREENS is a lecithin-free product with double the amount of green ingredients as other so-called "green" supplements on the market today, and is specifically developed for highly active people who demand more from their bodies.Directions For CytoGREENS: Mix 1 scoop of CytoGREENS™ with 1 cup (237 ml. 8 oz.) of cold water. Take 1 to 2 servings daily.

FDA: These statements have not been evaluated by the Food and Drug Administration. This product is not intended to diagnose, treat, cure, or prevent any disease.

Warnings: Consult your health care practitioner before taking this product, especially if you are under medical supervision, taking prescription medications or if you suffer from a serious and/or pre-existing medical condition. Not recommended for children, or pregnant or lactating women. This product has a tamper evident neck band for your protection. Do not use if neck band is missing or broke.